F.Antastic creatures appear in myths and legends from cultures around the world. These beings take many forms. Some of them run, slide, swim, or dig. Many of them fly. As a paleontologist who studies fossil birds and pterosaurs (Habib) and an illustrator who designs creatures for books and films (Whitlatch), we are particularly interested in the biomechanics of flight and how to make flying animals believable. We recently teamed up to produce a book on the subject called Flying Monsters: Illustrating flying vertebrates (to be published by Design Studio Press in 2021), which includes both real and imaginary animals. In the following pages we ripple over three imaginative creatures depicted in the book and explain the science that raises them as we ground them in reality.
RASSAKING A CLASSIC: Flying horses
Flying horses are rich in myths and stories. The most famous is probably Pegasus, the winged horse of Greek legend who jumped from the blood of the snake-haired monster Medusa when the hero Perseus beheaded her. Somewhat less well known is the hippogriff, a partly equine, partly avian predator that can gallop on the ground like a horse and then fly into the air to soar like an eagle.
We have reinterpreted the classic hippogriff as a mixture of horse and pterosaur. This mix would enable the animal to fly horse-sized. Several factors seem to have contributed significantly to the fact that giant pterosaurs such as Quetzalcoatlus, cryodracon and Hatzegopteryx To reach their size while maintaining their ability to fly: their bones were light for their strength, their wings were formed by a membrane of muscle and skin rather than comparatively heavy feathers, and they likely used both their folded wings and their hind legs Pushing off the ground and throwing yourself into the air – a much more powerful jump than one performed only from the hind legs. Like these pterosaurs, our hippogriff (actually a hippoptero) can use its wings as jumping limbs to perform the takeoff.
This starting style works for both a four-legged winged horse, where the front legs serve as wings, and a hexapodal horse, where the wings are a third pair of limbs. In the latter case, in a longer position, the wings, together with the four running limbs, press against the ground. The two configurations have different considerations: In order to build an airworthy hexapod, the shoulder blades have to be stacked, while with four-legged friends the shoulder has to be completely rebuilt, since real horses cannot lift their front legs to the side, let alone over their backs.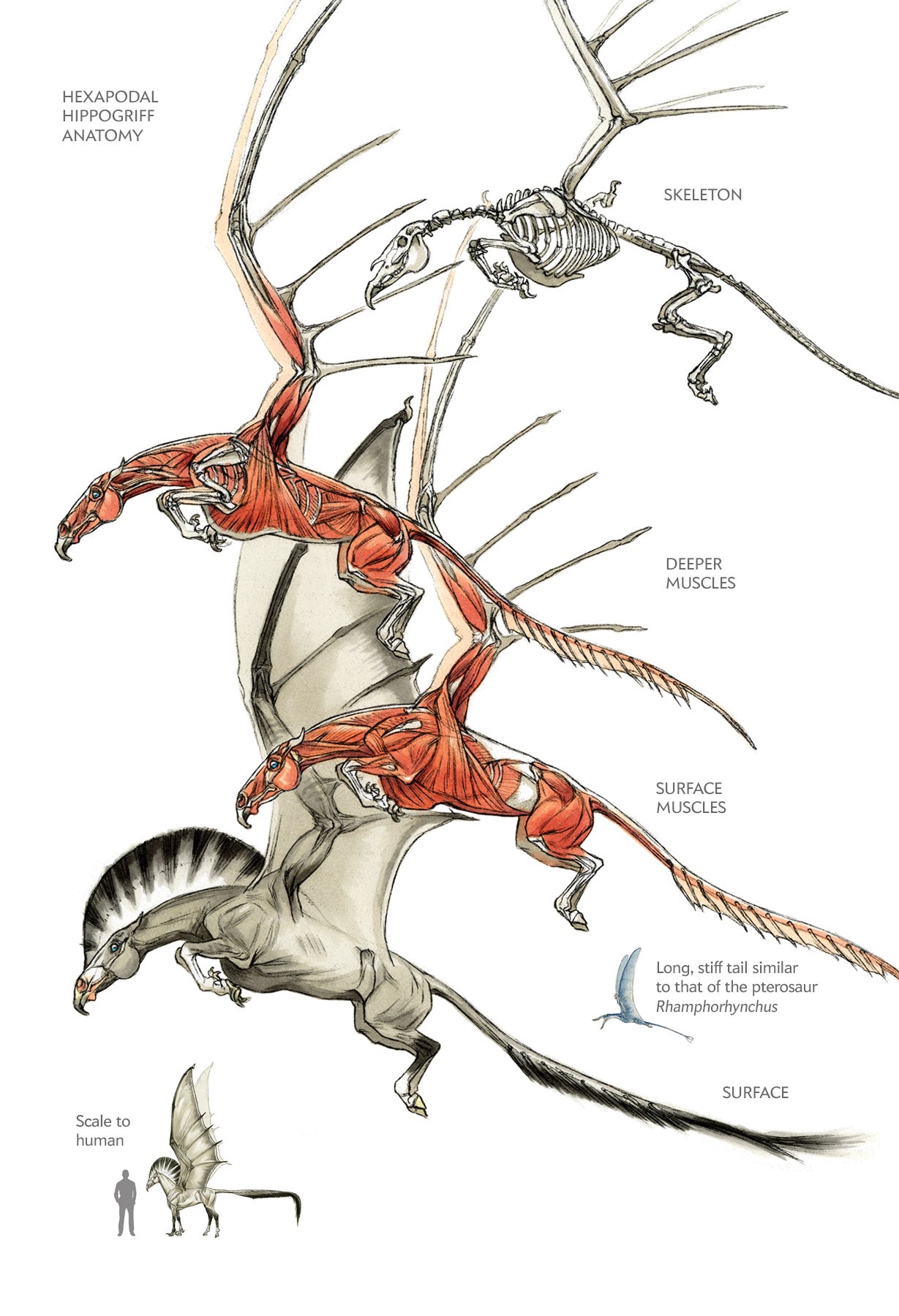 Bringing the wings into contact with the ground for take-off, allowing the wing muscles to do their double duty, is the most realistic way to get a horse-sized fantasy creature into the air. With the muscle physiology and bone strength typical of vertebrates, and a vaguely pterosaur-like quadruped, 800 pounds is probably about the maximum such a creature could weigh while it can still fly. If the flying horse had lots of air spaces in its bones, like the giant pterosaurs did (and like many birds do today), then it could weigh less than 800 pounds and still carry a full-size horse. Alternatively, adding larger muscles or longer limbs for jumping than giant pterosaurs could increase the size limit. With the right anatomy, even a 1,200 pound winged horse could fly.
In our hippogriff, the muscles of the back drive the impact and the muscles of the chest drive the impact, just like in live bats and long-extinct pterosaurs. In contrast, birds have both sets of muscles in their chest. With a bat- or pterosaur-like arrangement of the flight muscles, the chest could be a reasonable size. In contrast, in a bird-like arrangement, the chest would have to be so large that it is awkward. The bat or pterosaur condition is also a more realistic option for the hexapodal body plan, where the stacked shoulder blades make bird-like musculature impossible.
METAPHYSICAL DESCRIPTION: Angel of the Bible
Despite their central role in Judeo-Christian stories, art, and traditions, angels are rarely described in physical detail in surviving religious texts. In modern interpretations, these heavenly beings are often depicted as people with wings, but the few written descriptions of angels in the Bible suggest much more complex forms: many are described as terrifying, and every person who has met them is said to have had them overwhelmed with fear. Two books of the Bible – Revelation and Ezekiel – contain the most detailed physical descriptions. Both appear to represent the same four angels, sometimes referred to as the four living beings.
The descriptions in the two texts are the same in some details, but differ in remarkable respects. In Revelation, these mighty angels are represented as resembling a lion, an ox, a man, and an eagle. In contrast, according to Ezekiel, only their faces resemble these creatures. The angels of Revelation have three pairs of wings; Ezekiels have two pairs of eyes covered and their flight is described as "floating," with abundant thunder, lightning, and electrical plasma surrounding the angels as they flutter around God's throne.
A prominent early interpretation popularized by the third century bishop and Christian martyr Victorinus von Pettau equated the four creatures with the four evangelists. In this understanding the lion represents Mark, the ox Luke, the eagle John and the man Matthew.
We show Matthew, mostly as described in Ezekiel, with a single face as in Revelation (Ezekiel gives each angel four faces). And we dived into the fossil record for inspiration from the real world. For the body plan we searched Microraptor, a flying dinosaur with four wings. Recent studies have shown that Microraptor and his relatives probably flew by flapping their forewings and holding their hind wings under their bodies to improve stability and maneuverability. Accordingly, our Matthew has flapping, propulsive forewings and holds his hind wings upright.
For overall proportions, we turned to the largest known animals in the air: giant Azhdarchid pterosaurs. These flying reptiles included animals such as Quetzalcoatlus and CryodraconBoth grew to several hundred pounds and had wing spans in excess of 30 feet. Strangely enough, these giant pterosaurs were "front-loaded" animals with massive heads, necks, chests and arms. Our depiction of Matthew shows a human-like (but clearly alien) head on a massive, CryodraconNeck in style. An enlarged chest accommodates large flight muscles, and a corresponding forward swing of the wings aligns the center of lift with the center of mass. The resulting creature is great and terrifying at the same time – and biomechanically feasible.
FLYING WITHOUT WINGS: Kites of Asia
Asian dragons, especially those of Chinese, Vietnamese and Japanese mythology, are difficult to depict anatomically believable, as these creatures always fly without wings. They usually have a serpentine body plan, but are not associated with snakes in traditional lore. Instead, these dragons are often described as common with mammals and fish, especially carp, and they are associated with rivers, rain, lightning, and storms.
To find good real-world models to work with, we turned to live animals that fly without wings. Sliding snakes of the genus Chrysopelea Do it beautifully and fly ten feet at a time with no limbs. You will perform a series of S-turns and spinning motions in the air as you glide that nicely approximates the tortuous paths that flying kites are often shown in traditional Chinese and Japanese art. (Dragon dancers in China work in teams of nine or more to move a kite in flowing, curving patterns on poles.) Chrysopelea also comes exclusively from Southeast Asia, which makes it a regionally suitable group of snakes, after which our dragon can be modeled. To like Chrysopelea Snakes, our anatomically plausible Asian dragon, creates its primary flight surface by flattening its body and making S-curves in the air. To accommodate the size of the kite, we've added some extra "webbing" along the body and limbs to increase the flight area.
We checked out other unusual real world snakes including the Malagasy leaf-nosed snake (genus) Langaha) to develop the "whiskers" depicted on dragons in traditional art. These snakes have a long, flexible appendix that protrudes from their snouts. By capturing and splitting up such a projection, we created a series of whisker-like structures for our kite. Asiatic vine snakes (genus Ahaetulla) inspired his narrow face, horizontal pupils, and ridges over his eyes.
This dragon is associated with forest streams. It can swim, climb, and slide, making it a formidable and adaptable predator. All of the snakes we referred to for this build specialize in hunting lizards. Their fangs are in the back of their jaws and their venom paralyzes other reptiles. In fact, the main predators of lizards and snakes in many regions are other lizards and snakes. With that in mind, we envisioned that the greatest threat to young western dragons (i.e. dragons with wings) would be other dragons – especially snake-less, wingless dragons from the east. Our use of biological inspiration has thus helped us fill an entire ecology for our kite. By looking at the relationships between form and function in real animals, we can think of a creature of myth in a new light, both in terms of anatomy and behavior.